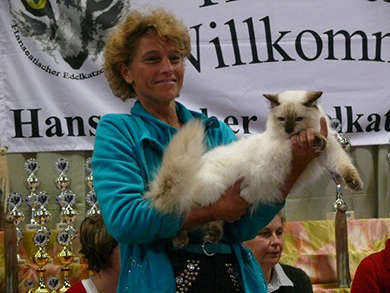 Here they are:The main actors of this website; dear guests of this website make yourself a short but hopefully your memory staying picture to the Ragdolls de beira mar!
Let me inform you at first that the pedigrees of our cats has been checked by the Solitär that our Ragdolls are the real Ragdolls (genuine Ragdolls). All our cats are genuine Ragdolls who descemt from Josefine in every line.
At first I shortly want to present myself; the allrounder, servant to cuddle, servant for food and servant to clean up. In one word I am sevant, slave and subordinate of those irresistible cats! My name is Ute Fricke and I live at my cat's in Hildesheim, a small city in NIedersachsen, northern part of Germany.
This is but enough about me because on this webpage I want to present this wonderful race "Ragdoll" to you.